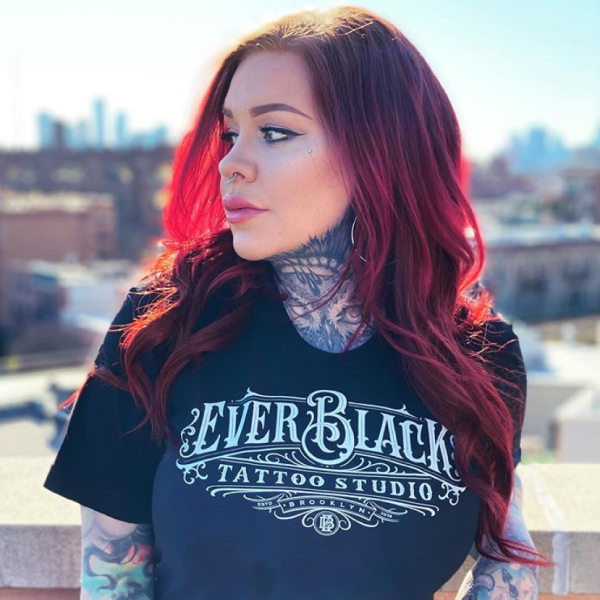 ---
Nikki Simpson is a Co-owner of EverBlack Tattoo Studio and word-renowned tattoo artist. She began her career in 2011 in Tucson, Arizona at the early age of 19. She was trained by a traditional apprenticeship, focusing on the bold, long lasting fundamentals of tattooing. In the following years, Nikki grew her skill and moved on to traveling the country full time, frequenting guest spots and tattoo conventions, until finally she relocated permanently to New York City.
Simpson was a feisty participant on Season 8 of Ink Master and made a name for herself in the competition. The success of that opened the doors for her to co-host "Ink Master Angels," which aired for two seasons on Spike Tv and Paramount Network. She has graced television screens, red carpets, countless tattoo magazines, and has earned a name for herself in the tattoo and television industry. She is highly decorated in 1st place awards from tattoo conventions far and wide. Now that the reality television shows and constant traveling is over, she has achieved her dream of opening her own studio. She is back to tattooing full-time in her home of Brooklyn, NYC.
Nikki's style is romantic, illustrative realism. She's highly experienced in soft, high contrast black and grey, and also bright, saturated color work. Her specialized subject matter ranges from woodland witches and fierce goddesses to perfectly petaled roses and ornamental accents.
---
---
Since she can remember Jolie has been attracted to tattoos, but the love affair began once she was introduced to tattooing and realized that she could put art on a living "canvas". Jolie blends her style of art with tattooing which leads to a more illustrative style. Tattooing constantly challenges her artistically and is continually learning the craft. She strives to bring each clients idea to form no matter how big or small, simple or complex.
It's a blessing to be able to combine her art with tattooing and is humbled knowing that people trust you to mark them with what you've created for life.
---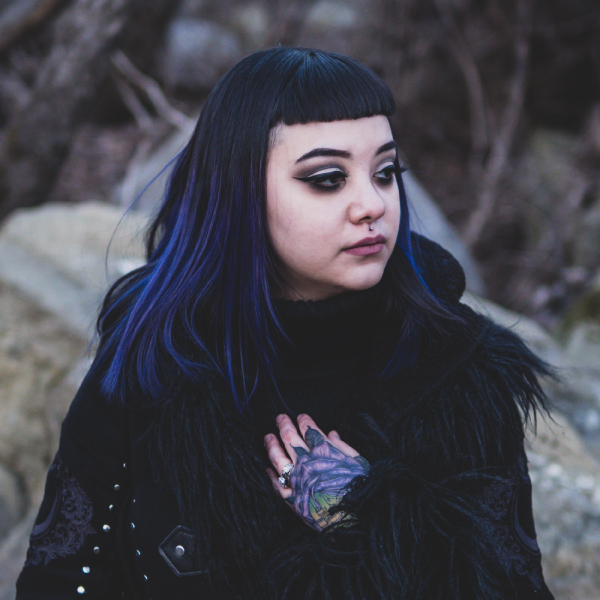 ---
Megan is currently apprenticing under Nikki Simpson at Everblack. She is a New York-based artist who graduated from the School of Visual Arts, majoring in Sequential Art and Illustration. Megan has worked in various mediums such as ink, acrylic paint, and digital painting. On top of working with canvases, she has also become acquainted with sculpting and working with resin.
During her apprenticeship, Megan has been able to progress and fine-tune her skills as an artist and tattooer. Her style is macabre, yet playful. She enjoys creating creatures ranging from ghastly ghouls to endearing oddities. The sources of her inspiration can be found in fairytales, folklore, horror, and pop culture. Check out her Instagram
---
---
Alex grew up in one of the smallest countries of the Americas, El Salvador. She showed artistic abilities from a very early age, and was only made aware of her talent when her artwork on her notebooks, school projects, and murals were admired and praised. Her friends and family would always ask her to draw portraits of their loved ones, which inspired her love for photorealism.
Coming to the USA at 16 years old and without a drop of English in her vocabulary, she was able to fluently speak and write English after only one year. Due to the corruption of her country, tattooing was only seen as something gang-related, which led her to believe tattooing could never be a professional career. But she overcame that doubt with determination, perseverance, and an eagerness for success. Making a reality of her dream career, despite the hardships, has become one of her biggest accomplishments.
With 8 years of experience, Alex specializes in photorealistic black and grey. She loves creating Life-changing, memorable tattoos and also challenging herself to do color realism and large-scale pieces.
Alex is a kind, fun person to have a conversation with while getting a beautiful tattoo from her at EverBlack. Check out her Instagram.
---
---
Angel Garcia is a Brooklyn native. Having graduated with a bachelor's degree in accounting, he realized that wasn't the path for him, and that tattooing was what he truly wanted. So he began to learn this craft from different tattoo artists throughout New York and New Jersey.
He has been tattooing for 8 years now, with his subject matter of choice being highly detailed black and grey. As a father of two, he draws inspiration and motivation from his family to consistently reach new levels and fine-tune his tattooing skills, and provide excellent client care. Check out his Instagram.
---