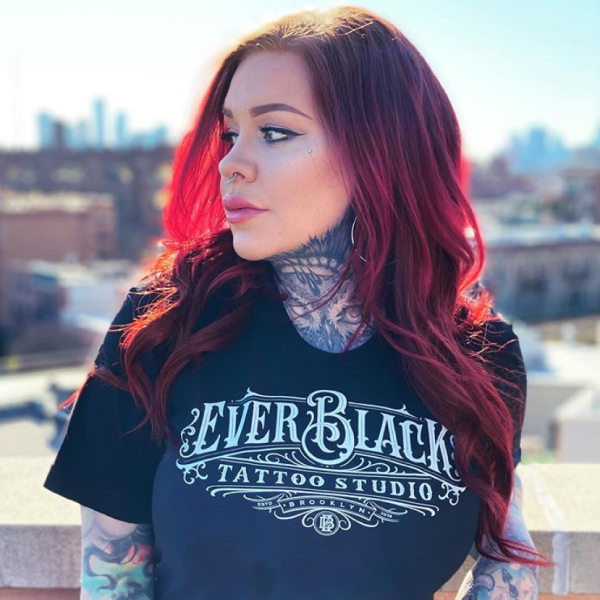 ---
Nikki Simpson is a Co-owner of EverBlack Tattoo Studio and word-renowned tattoo artist. She began her career in 2011 in Tucson, Arizona at the early age of 19. She was trained by a traditional apprenticeship, focusing on the bold, long lasting fundamentals of tattooing. In the following years, Nikki grew her skill and moved on to traveling the country full time, frequenting guest spots and tattoo conventions, until finally she relocated permanently to New York City.
Simpson was a feisty participant on Season 8 of Ink Master and made a name for herself in the competition. The success of that opened the doors for her to co-host "Ink Master Angels," which aired for two seasons on Spike Tv and Paramount Network. She has graced television screens, red carpets, countless tattoo magazines, and has earned a name for herself in the tattoo and television industry. She is highly decorated in 1st place awards from tattoo conventions far and wide. Now that the reality television shows and constant traveling is over, she has achieved her dream of opening her own studio. She is back to tattooing full-time in her home of Brooklyn, NYC.
Nikki's style is romantic, illustrative realism. She's highly experienced in soft, high contrast black and grey, and also bright, saturated color work. Her specialized subject matter ranges from woodland witches and fierce goddesses to perfectly petaled roses and ornamental accents.
---
---
While we work to get back up to speed after temporarily closing due to COVID-19, we are interviewing new tattoo artists who will join our team soon. We'll keep you posted and update this section as those new artists are added to our roster.
---
---
We welcome Radames Rivera from Folsom, CA from October 5th-22nd. He has limited availability so contact Radames directly at [email protected]
---
---
We welcome guest artist Hannah Estel October 6-11th. There are still a couple days left available! Send us an inquiry to book.
---